Top Big Data Analytics Certifications
Currently, big data is having an enormous impact on the business. The amount of organizational data that is generated has increased tremendously every year & more types of information are being stored in digital formats now. The challenges are to learn how to deal with these new data types & determine which information can provide value to our business. There are a lot of diverse types of data but collecting them won't create value.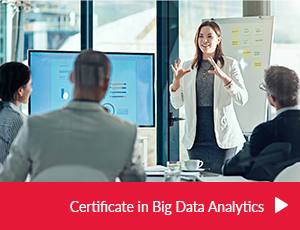 A lot of tech vendors now provide an extensive range of big data analytic certifications for big data aficionados. These big data certifications help in mastering the use of the products & services. It focuses on developing expertise & becoming efficient as well as certified in certain big data analytics tools that will help to advance your career. The benefits of getting big data certified are:
Offers a solid background for landing a career in Big Data Analytics career path
Attractive remuneration for Big Data Certified applicants compared to the other candidates
For those who are trying to gain expertise in Hadoop can get help from Big Data Certification
Big Data Certification can be helpful for those who want to make a shift from their current domain to Hadoop
Major companies look for candidates with Big Data Certification which creates significant advantage for them compared to the other professionals without the big data certification
Big Data Certification will help you to get efficient in building up those required skills for a great career path in Big Data Analytics
Assists you to be more confident & assertive about Big Data Analytics while attending interviews
Top Big Data Certifications
CAP (Certified Analytics Professional) is taught by The Institute for Operations Research & the Management Sciences which has expertise on big data certification training. This program includes extensive training in framing business & analytical problems, addressing data, building analytical methodologies along with model. This certification is available in more than 100 countries. A complete intensive CAP study guide is provided to assist the applicants who want to take the CAP exam.
This popular CCP:DS certification is offered by Cloudera, the leading trainer in Big Data Analytics. This program is for data scientists to showcase their ability in developing big data production. The candidate is required to pass two exams which contain 55 questions.
The extensive Certificate in Engineering Excellence in Big Data Analytics and Optimization (briefly known as CPEE) is an 18-week program which includes 10 courses with comprehensive lectures for applicants who want to hone their skills especially in Hadoop & R. This course is provided by the International School of Engineering (INSOFE).
For a successful career in Big Data Analytics, start small & go after the broad field. By deepening your analytics knowledge you can raise your value to the recruiters. Showcase your ability to use the tools & technology to manage big data & have the extra edge for which employers are looking.